Nel 1971, dopo diverse ricerche nel settore dell'arte concettuale - comportamentista, Sturli progetta "Ombre mobili". L'opera è realizzata con una serie di lampade disposte in verticale e orizzontale, dirette da un accorto sistema elettrico, che le accende e le spegne con ritmo costante. Le luci proiettate sul volto e il corpo dell'artista creano una danza di ombre, evidenziata nei primipiani dalla ripresa filmica.
La realizzazione di opere fotografiche come "Con- su- mistica", danno avvio con film e video, ad una ricerca costante nel settore dei nuovi media, inserendo l'artista tra i pionieri assoluti di questo nuovo movimento dell'Arte contemporanea.

(Per vedere l'ingrandimento clicca sulle Foto)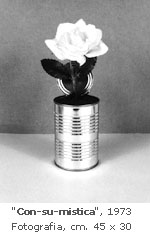 Following a number of experiments in the field of conceptual art, in 1971 Sturli produced "Ombre Mobili" ("Moving Shadows"): a series of lights arranged horizontally and vertically and whose clever electrical system switches them on and off in a regular pattern. Their lights are projected onto the artist's face and body, creating a choreography of moving shadows which are highlighted as foreground characters on video. Other photographic works, such as "Con-su-mistica" ("Consumer mystics") add to a trail of action films and videoperformances researching into all areas of new art forms, making Sturli one of the foremost pioneers of this new trend in contemporary art.
(To see enlargements, click on the photos)